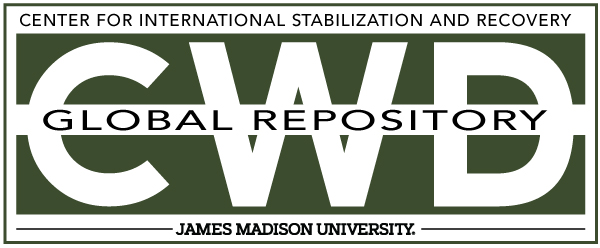 Creative Commons License

This work is licensed under a Creative Commons Attribution-Noncommercial-No Derivative Works 4.0 License.
Keywords
TWEIS, 1998, 1st Edition, Risk Education, Victim Assistance, ERW Clearance, Conventional Weapons Stockpile Destruction, Advocacy and International Law, Centers and Organizations, State Department, Humanitarian Mine Action, Landmine, Clearance, Victim Assistance, Risk Education, Funding, PM/WRA, MANPADS, HMA, Training, Research, Development, PSSM, CISR
Abstract
To Walk the Earth in Safety. The United States Commitment to Humanitarian Demining informs the reader about the U.S. commitment to rid the world by the year 2010 of anti-personnel landmines (APL) which pose a threat to civilians. The most recent U.S. Government survey identified 93 countries affected with either an APL, or an unexploded ordnance (UXO) problem, or both. Although the estimates regarding the number of mines implanted in each country vary widely among sources, the U.S. estimate of APL infestation is approximately 60-70 million worldwide. This report covers FY1998.
Previous Versions