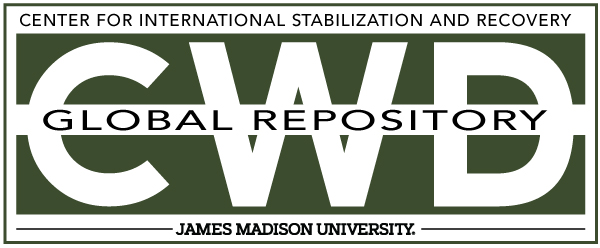 Creative Commons License

This work is licensed under a Creative Commons Attribution-Noncommercial-No Derivative Works 4.0 License.
Keywords
TWEIS, 1999, 2nd Edition, Risk Education, Victim Assistance, ERW Clearance, Conventional Weapons Stockpile Destruction, Advocacy and International Law, Centers and Organizations, State Department, Humanitarian Mine Action, Landmine, Clearance, Victim Assistance, Risk Education, Funding, PM/WRA, MANPADS, HMA, Training, Research, Development, PSSM, CISR
Abstract
The United States first became involved in humanitarian demining in 1988 when it sent a team to assess the landmine situation in Afghanistan. Five years later, U.S. demining-related programs were underway in Afghanistan and in seven other countries. By the end of 2000, we will have provided more than $400 million to 36 countries for various humanitarian demining efforts such as deminer training,mine awareness, mine clearance, and orthopedic assistance to, and socioeconomic reintegration programs for, landmine accident survivors and their families. More than $100 million of that amount will be spent in Fiscal Year 2000, the largest commitment of any nation involved in financing humanitarian demining activities. As a result of our leadership, and with the assistance of other donor nations, the world is seeing positive results in many mine-affected countries—reduced casualties; agricultural land restored to productive use; return of refugees and internally displaced persons to their homes; reopened roads, schools, and markets; and other visible evidence of a return to normal life. The list of recipient countries receiving U.S. humanitarian demining assistance is expected to grow next year.
The goals of the U.S. humanitarian demining program are simple and direct: to reduce the loss of life and limb of innocent people; to create conditions for the safe return of refugees and internally displaced persons; and to afford opportunity for economic and social reconstruction. Our principal means of achieving these objectives is to assist mine-affected countries around the world in establishing a sustainable, indigenous demining capability, with the appropriate resources and skills to make their countries mine-safe.
As we enter the new millennium, we continue to face challenges to rid the world of these hidden killers. President Clinton's Demining 2010 Initiative, announced in October 1997, aims to accelerate and coordinate international participation in demining programs so that by the end of this decade these indiscriminate weapons of war will no longer threaten the lives of innocent people.
This, the second edition of To Walk the Earth in Safety, tells the U.S. story, but this is not the whole story. Other governments, the United Nations, many international and non-governmental organizations, and the mine-affected countries also play a critical role supporting humanitarian demining programs. The impact of our collective contributions is felt in many mine-affected nations. Indeed, in the not-too-distant future, we expect to see several of these countries declare themselves mine-safe.