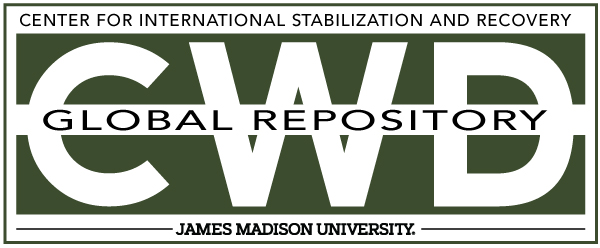 Creative Commons License

This work is licensed under a Creative Commons Attribution-Noncommercial-No Derivative Works 4.0 License.
Keywords
TWEIS, 2004, 2005, 6th Edition, Risk Education, Victim Assistance, ERW Clearance, Conventional Weapons Stockpile Destruction, Advocacy and International Law, Centers and Organizations, State Department, Humanitarian Mine Action, Landmine, Clearance, Victim Assistance, Risk Education, Funding, PM/WRA, MANPADS, HMA, Training, Research, Development, PSSM, CISR
Abstract
This sixth edition of To Walk the Earth in Safety summarizes the accomplishments of the inter-agency U.S. Humanitarian Mine Action Program for fiscal years 2004 and 2005. In a strict sense, it is a combined annual report for two years on what was then and still is the world's largest such program. But it is also a chapter in a real-life story that has a beginning, middle, and, we now know because of more than fifteen years of practical experience, an end.
Public safety and regional stability can be endangered by illegally traffi cked small arms and light weapons, abandoned ordnance, and poorly secured munitions as well as by persistent landmines left from past conflicts. Some countries are affected by several of these often-interrelated problems. Therefore, this edition also chronicles the efforts of the Bureau of Political-Military Affairs' Offi ce of Weapons Removal and Abatement to address the adverse effects in all these areas.
The U.S. Humanitarian Mine Action Program envisions assisting mine-affected countries in becoming "mine impact-free," or having the indigenous national capacity to achieve such a condition with little to no further outside assistance. A country that is mine impact-free is one where there is no economic or humanitarian justification for large-scale humanitarian mine clearance.
Achieving that goal entails more than mine clearance alone. For example, one facet of the U.S. Humanitarian Mine Action Program described in this report is training indigenous senior and mid-level national mine action managers so that they may "take ownership" of their countries' programs, run them efficiently, and rationally direct resources to mine-affected areas that have an immediate impact on safety and well-being.
This edition also refl ects progress by its omissions. The previous edition of To Walk the Earth in Safety, published in 2004, no longer included an entry for Costa Rica. This is because Costa Rica was finally rendered mine impact free, thanks in large part to the United States. We are also delighted to omit Djibouti, Guatemala and Honduras from this edition for the same reason. Again, thanks largely to the U.S. Humanitarian Mine Action Program, Djibouti became the fi rst mine-affected country in all of Africa to attain mine impact-free status in January 2004. Honduras followed in October 2004 and Guatemala completed demining in December 2005.
Country by country, the United States' humanitarian mine action and small arms/light weapons abatement programs are helping to remove dangerous threats and enabling more people everywhere to be able "to walk the earth in safety."