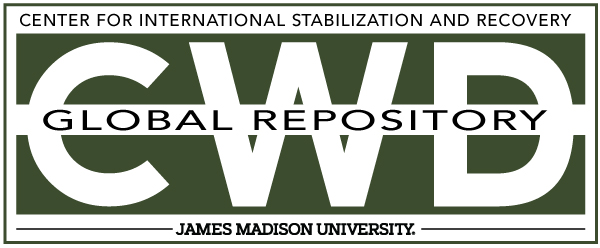 Creative Commons License

This work is licensed under a Creative Commons Attribution-Noncommercial-No Derivative Works 4.0 License.
Keywords
TWEIS, 2006, 2007, 7th Edition, Risk Education, Victim Assistance, ERW Clearance, Conventional Weapons Stockpile Destruction, Advocacy and International Law, Centers and Organizations, State Department, Humanitarian Mine Action, Landmine, Clearance, Victim Assistance, Risk Education, Funding, PM/WRA, MANPADS, HMA, Training, Research, Development, PSSM, CISR
Abstract
We are pleased to offer the 7th Edition of To Walk the Earth in Safety, the report of the interagency U.S. Humanitarian Mine Action Program for Fiscal Years 2006 and 2007. This report also describes the conventional weapons destruction efforts of the Office of Weapons Removal and Abatement located in the State Department's Bureau of Political-Military Affairs. This office directs programs that encompass humanitarian mine action, and elimination of at-risk small arms, light weapons, man-portable air-defense systems (MANPADS), and munitions.
Every edition of To Walk the Earth in Safety, archived at www.state.gov/t/pm/rls/rpt/walkearth, is a look back in time. This edition examines the United States' mine action and conventional weapons destruction work in 2006 and 2007. Why the lag? It takes awhile to compile the information for these reports; however, the effort was worth it as 2006 and 2007 marked two more years of solid accomplishments. For example, thanks in part to United States' assistance, in 2006 Macedonia was rendered free from the humanitarian impact of landmines and explosive remnants of war ("impact free"), and the last "hidden killers" were finally cleared from Mozambique's Sena Railway. Also in 2006, progress was made with the NATO Partnership for Peace destruction initiative in Ukraine, which included the elimination of 1,000 MANPADS that were excess to Ukraine's defensive needs.
In 2007, the annual number of reported casualties from landmines and explosive remnants of war worldwide decreased to 5,751, down sharply from approximately 26,000 just four years ago. Even factoring in the difficulty of accurately accounting for all casualties, it is clear that the United States, other donors, the mine-affected countries themselves, and brave deminers all working together have made the landmine problem surmountable in our lifetime. In 2007, the United States' destruction of at risk MANPADS surpassed 24,000 since we first began to prevent these threats to global aviation from falling into the wrong hands. Also in 2007, we celebrated the destruction of a symbolic millionth light weapon in five countries, a major milestone in the United States' efforts to reinforce peace and the rule of law. Finally, in 2007 we marked the 10th Anniversary of our Public-Private Partnership program in which the United States encourages civil society participation to help make our world impact free from all conventional weapons.
I invite you to examine this report in order to see the scope of the U.S. conflict-remediation and peace-building efforts around the world, and to learn about the organizations with which we cooperate closely to allow more people to "walk the Earth in safety."