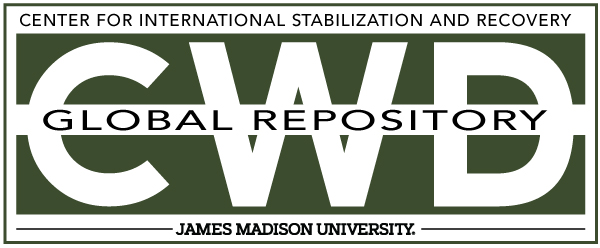 Creative Commons License

This work is licensed under a Creative Commons Attribution-Noncommercial-No Derivative Works 4.0 License.
Keywords
TWEIS, FY2008, 8th edition, Risk Education, Victim Assistance, ERW Clearance, Conventional Weapons Stockpile Destruction, Advocacy and International Law, Centers and Organizations, State Department, Humanitarian Mine Action, Landmine, Clearance, Victim Assistance, Risk Education, Funding, PM/WRA, MANPADS, HMA, Training, Research, Development, PSSM, CISR
Abstract
Welcome to the 8th edition of To Walk The Earth In Safety. Although we have seen real progress in combating the threat of mines and explosive remnants of war (ERW), conflicts persist, and the destabilizing effects of other weapons threaten peace and stability around the world.
The United States works with other nations to clean up the debris of war, combat trafficking in small arms and light weapons, and improve the security and management of munitions stockpiles. Catastrophic explosions at munitions storage facilities in populated areas have become a growing problem and have the potential to create more casualties than landmines and ERW. The United States is leading an international effort to address this "dangerous depots" problem.
Since 1993, the United States government has provided a total of more than $1.4 billion to clear landmines and unexploded ordnance. In 2008, the Department of State provided $123.1 million in assistance to 35 countries and continues to work bilaterally and multilaterally to cooperate and enact stricter controls. Also during 2008, the Special Envoy for MAN PADS Threat Reduction engaged foreign governments to reduce the threat from excess, loosely-secured, or otherwise at-risk man-portable air-defense systems (MAN PADS), raising the profile of this important issue worldwide.
Recognizing that governments and international organizations cannot do it all, the Bureau of Political-Military Affairs' Office of Weapons Removal and Abatement in the U.S. Department of State continues to expand its partnership program with the private sector to help over 60 partner organizations raise awareness and resources for mine action. These organizations educate civilians and assist ERW and landmine-accident survivors with rehabilitation and reintegration into society, as well as actually removing and destroying landmines, unexploded ordnance and conventional weapons.
I welcome your interest in the United States' program and invite you to learn about our work with other donor nations, international and nongovernmental organizations, and concerned citizens, which underlines our commitment to implement destruction and mitigation programs and engage civil society in order to reduce the harmful worldwide effects generated by indiscriminately used, illicit and abandoned conventional weapons of war.