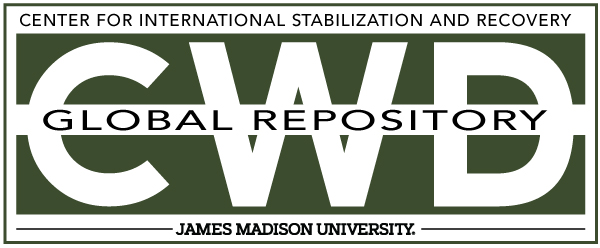 Creative Commons License

This work is licensed under a Creative Commons Attribution-Noncommercial-No Derivative Works 4.0 License.
Keywords
TWEIS, 2012, 13th Edition, Risk Education, Victim Assistance, ERW Clearance, Conventional Weapons Stockpile Destruction, Advocacy and International Law, Centers and Organizations, State Department, Humanitarian Mine Action, Landmine, Clearance, Victim Assistance, Risk Education, Funding, PM/WRA, MANPADS, HMA, Training, Research, Development, PSSM, CISR
Abstract
In 2013, we celebrate 20 years of U.S. Government agencies working together to lead the international donor community in supporting the clearance of landmines and explosive remnants of war (ERW), as well as the destruction of at-risk and unsecured weapons and munitions. The United States first became involved in humanitarian demining in 1988 by sending a team to assess the landmine situation in Afghanistan. In 1993, U.S. assistance took an important step forward when the Department of State (DOS), Department of Defense (DOD), and the U.S. Agency for International Development (USAID) formed an interagency partnership to coordinate U.S. humanitarian demining programs globally. U.S. efforts have helped numerous countries reduce the impact of landmines and unexploded ordnance (UXO), contributed to a dramatic reduction in the worldwide annual casualty rate from these threats, allowed refugees and internally displaced persons to return safely to their homes, enhanced the political and economic stability of nations affected by landmines, and increased international security.
This edition of our annual report, To Walk the Earth in Safety, examines how far we have come in two decades of sustained support for humanitarian mine action (HMA) and details the programs and partnerships that comprise the U.S. Conventional Weapons Destruction (CWD) Program, which includes HMA. Since 1993, the U.S. has contributed over $2 billion to more than 90 countries around the world to reduce the harmful worldwide effects of at-risk, illicitly proliferated, and indiscriminately used conventional weapons of war.