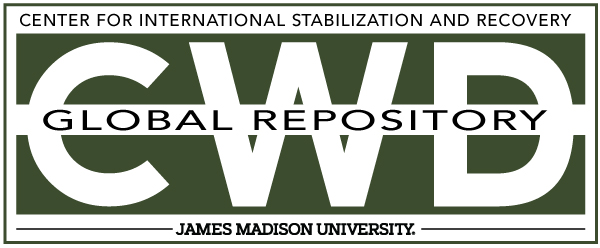 Creative Commons License

This work is licensed under a Creative Commons Attribution-Noncommercial-No Derivative Works 4.0 License.
Keywords
TWEIS, 2013, 14th Edition, Risk Education, Victim Assistance, ERW Clearance, Conventional Weapons Stockpile Destruction, Advocacy and International Law, Centers and Organizations, State Department, Humanitarian Mine Action, Landmine, Clearance, Victim Assistance, Risk Education, Funding, PM/WRA, MANPADS, HMA, Training, Research, Development, PSSM, CISR
Abstract
The 13th edition of To Walk the Earth in Safety describes the programs and partnerships that comprise the U.S. Conventional Weapons Destruction (CWD) Program. Since 1993, the U.S. has led the international donor community in reducing the harmful effects of poorly secured, unstable or illegally traded conventional weapons of war. We have contributed over $2.3 billion to more than 90 countries around the world.
This mission resonates with my own experience. I started my career in Afghanistan, where explosive remnants of war had already claimed thousands of lives. I am proud to be in a position to oversee U.S. efforts to address this threat. Our work, combined with contributions from the rest of the donor community, has significantly reduced the impact of landmines and unexploded ordnance. The worldwide annual casualty rate from these threats has plummeted. Communities are safer. Citizens are better able to rebuild their homes and livelihoods, fostering regional stability and international security. Collaboration with host nation governments has been critical to this progress, as have significant contributions from the private sector and civil society.
Our programs are part of a broader U.S. framework on conventional weapons destruction. For example, at the Third Review Conference of States Parties to the Ottawa Convention in Maputo, Mozambique in June 2014, the United States announced that the United States will not produce or otherwise acquire any anti-personnel munitions that are not compliant with the Ottawa Convention, including to replace stockpiles as they expire over the coming years. Meanwhile, we are diligently pursuing other solutions that would ultimately allow us to accede to the Convention.
In fiscal year 2013, the Department of State provided over $142 million in CWD assistance to 49 countries. Our program helped post-conflict communities and countries recover and rebuild by clearing landmines and other explosive remnants of war, providing victim assistance and mine/unexploded ordnance risk education, and destroying or securing conventional weapons. This report details the significant accomplishments and milestones we achieved in fiscal year 2013.