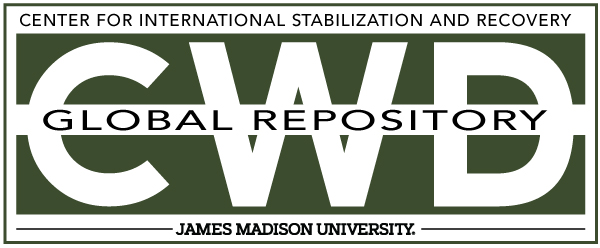 Creative Commons License

This work is licensed under a Creative Commons Attribution-Noncommercial-No Derivative Works 4.0 License.
Keywords
TWEIS, 2014, 15th Edition, Risk Education, Victim Assistance, ERW Clearance, Conventional Weapons Stockpile Destruction, Advocacy and International Law, Centers and Organizations, State Department, Humanitarian Mine Action, Landmine, Clearance, Victim Assistance, Risk Education, Funding, PM/WRA, MANPADS, HMA, Training, Research, Development, PSSM, CISR
Abstract
For more than two decades, the United States has been at the forefront of international efforts to reduce the worldwide threat to civilians from landmines, unexploded ordnance (UXO), and other conventional weapons of war. Just 15 years ago, landmines and other explosive remnants of war killed or injured nearly 10,000 men, women, and children every year—more than 25 every day. Thanks to the concerted efforts of the United States, partner nations, international nongovernmental organizations, and host nations, that figure has now dropped by more than 60%.
The 14th edition of To Walk the Earth in Safety documents the United States' efforts to combat these threats, the progress we have made, and the work still to be done.
In last year's report, I highlighted our June 2014 announcement that the United States would no longer produce or otherwise acquire anti-personnel landmines. In September 2014, President Obama took another major step forward, announcing that the United States would not use anti-personnel landmines outside the Korean Peninsula and that the United States would start to destroy anti-personnel landmine stockpiles not required for the defense of the Republic of Korea. These historic policy changes represent another step to advance the humanitarian aims of the Ottawa Convention.
Since 1993, the United States has invested nearly $2.5 billion to clear or destroy landmines, unexploded ordnance, and other dangerous conventional weapons. In Fiscal Year 2014, the Department of State allocated approximately $140 million to CWD programs in more than 40 countries, helping post-conflict communities and countries recover and rebuild.