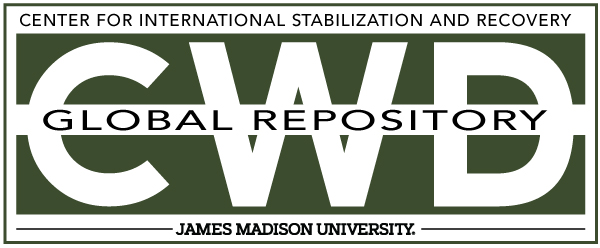 Title
Creative Commons License

This work is licensed under a Creative Commons Attribution-Noncommercial-No Derivative Works 4.0 License.
Keywords
Centers and Organizations, United Nations Mine Action Service, UNMAS, 2012, Annual Report, Humanitarian Mine Action, HMA
Abstract
The year 2012 was an important one for UNMAS. Delivering on its commitment, UNMAS has successfully led and completed the United Nations Mine Action Strategy, which was endorsed, last December, by the heads of United Nations entities active in mine action. This was a welcome reaffirmation of UNMAS leadership and coordination role. Simultaneously, my counterparts entrusted UNMAS with the responsibility of establishing, hosting and operating the United Nations Monitoring and Evaluation Mechanism for Mine Action, a commitment to accountability and transparency that I wholeheartedly support. The Secretary-General appointed a new Director, the first woman to occupy this post, who immediately focused her attention on management reforms, strengthening partnerships, forging new ones and improving dialogue and coordination, both at Headquarters and at the country level.
Every year, mines, explosive remnants of war and other explosive hazards kill or injure thousands of human beings worldwide. This is a tragedy. These indiscriminate explosive devices sow constant fear in scores of countries, affecting millions of people. A single landmine – or even the fear of its presence – can hold an entire community hostage, effectively robbing people of their livelihoods. Furthermore, their presence blocks the rapid deployment of peacekeepers and the delivery of humanitarian relief, thus delaying in real terms the reconstruction of areas affected by war.
The results of UNMAS interventions are immediate and long-lasting. In South Sudan, markets are bustling for the first time in 20 years because people are now more free to move about, allowing trade to resume. In Afghanistan, community-based demining and risk education contribute directly to stabilization and security, including by employing thousands of Afghans.
In 2012, the scope of UNMAS work continued to evolve in response to the needs of the millions of people increasingly exposed to all types of explosive hazards. For example, the current crisis in the Sahel shows how the proliferation of weapons fuels insurgency, as illicitly acquired ammunition is used for nefarious purposes, including for improvised explosive devices.
In Cote d'Ivoire, the Democratic Republic of the Congo, Libya and Mali, to name just a few countries, Governments are requesting UNMAS help in improving the safety, security and management of their weapons and ammunition. UNMAS has also been increasingly called upon to provide its expertise to other sectors, including disarmament, demobilization and reintegration, and security sector reform.
The 2012 annual report chronicles the central role of UNMAS in the protection of civilians, peacekeeping, peacebuilding, humanitarian relief and development, allowing missions to deploy rapidly and assisting refugees and internally displaced persons in safely returning to their homes.
A lot has been achieved. Nonetheless, the remaining challenges demand more intense and focused efforts. Thanks to the invaluable trust and support of its partners, UNMAS will continue to ensure that lives are spared, that the needs, rights and dignity of survivors are protected and restored and that the fear and insecurity that landmines and remnants of war instill in so man y can be alleviated.
I applaud UNMAS for spearheading mine action and addressing so humanely the needs and aspirations of communities and survivors affected by these terrible and indiscriminate weapons. I pay tribute and am grateful to the staff of UNMAS for their dedication.