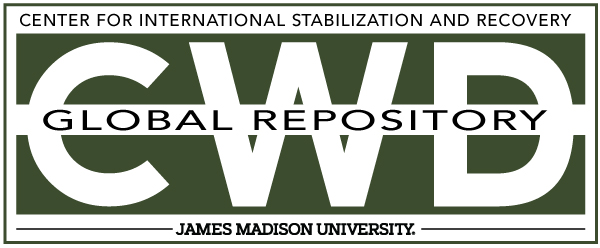 Creative Commons License

This work is licensed under a Creative Commons Attribution-Noncommercial-No Derivative Works 4.0 License.
Keywords
ERW Clearance, Lessons-Learned, Mine Action, CISR, MAIC, JMU, Kay Knickrehm, Noah Klemm, James Madison University, HMA, Mine Action
Abstract
The demand for a centralized lessons learned database has made it clear that there is value in consolidating the experience derived from the numerous de-mining missions by a variety of teams in a variety of countries. Consequently, the James Madison University Mine Action Information Center developed a methodology for collecting, validating, and distributing lessons-learned within the mine action community.
In order to develop this lessons-learned system, individuals involved in the wide spectrum of activities (victim assistance, mine clearance, survey, mine awareness, etc.) and belonging to the myriad agencies (NGOs, military demining, United Nations, MACs, etc.) related to the field of mine action were contacted and interviewed individually, and at two international conferences. Finally, the current state of lessons-learned within the community was analyzed, a Needs Assessment was performed, key stakeholders were identified, and a working model was developed.