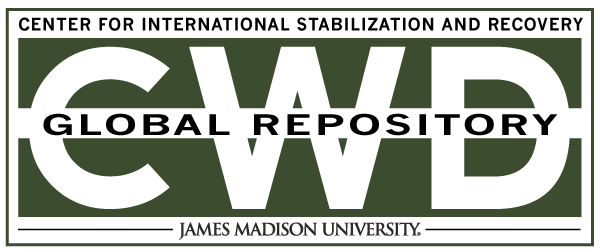 Creative Commons License

This work is licensed under a Creative Commons Attribution-Noncommercial-No Derivative Works 4.0 License.
Publication Date
4-4-2014
Keywords
advocacy and international law, APMBC, Anti-Personnel Mine Ban Convention Convention on the prohibition of the use, stockpiling, production and transfer of anti-personnel mines and on their destruction, AP Mine Ban, Ottawa Convention, Chairperson's Summary, Medellin, Colombia, 2014
Abstract
The Anti-Personnel Mine Ban Convention is a short reference to the CONVENTION ON THE PROHIBITION OF THE USE, STOCKPILING, PRODUCTION AND TRANSFER OF ANTI-PERSONNEL MINES AND ON THEIR DESTRUCTION, also known as the Ottawa Convention.
Bridges between Worlds was an initiative to address some fundamental questions about the place of victim assistance in other domains, such as the worlds of disability, heath care, education, employment, development, poverty reduction and human rights.
Bridges between Worlds highlighted that those who care deeply about the ful lment of the Convention's promise to landmine victims and survivors have much in common with those concerned with the well- being and the rights of women, girls, boys and men injured and living with disabilities regardless of the cause. There is strength in pursuing this unity of purpose and working together towards the achievement of common goals.