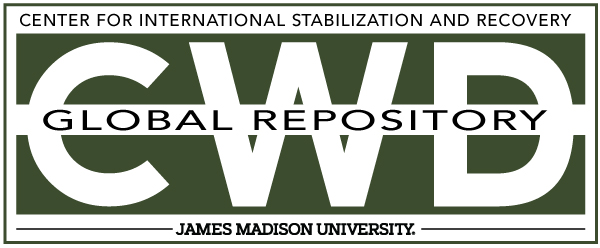 Creative Commons License

This work is licensed under a Creative Commons Attribution-Noncommercial-No Derivative Works 4.0 License.
Keywords
Victim Assistance, Landmine, Casualty, Data, Best Practices, MAIC, Mine Action Information Center, PM/WRA, State Department, Department of State, JMU, James Madison University, CISR
Abstract
The MAIC built upon research conducted in earlier phases of the project (2001-2002) to investigate the following unresolved questions regarding the development of an effective landmine casualty data system.
1. What kind of data about landmine victims is being collected and is it adequate to the needs of victim assistance service providers?
2. If it is not adequate, what additional data should be collected and how should it be managed?
3. What can be done to improve the dissemination of landmine casualty data?
These questions were addressed by investigating developments in landmine casualty data collection and management since 2002 and adding them to the information about existing data collection and management efforts reported on in the previous phases of the project. Next, following up on a recommendation made at a workshop conducted in an earlier phase of the project, a survey was conducted to evaluate the adequacy and appropriateness of the data fields contained in IMSMA's standard mine accident victim data entry form. Recognizing that the Landmine Impact Survey (LIS) collects data on landmine victims that is stored in a separate component of IMSMA (its "Impact Survey" functionality), the study also examined the LIS victim data fields and compared them to the IMSMA "victim" data fields.
Based on the outcome of this three-pronged research project, nine specific recommendations were made for enhancing the collection and management of landmine casualty data. Below are the major recommendations presented in summary form. The full set of recommendations and explanations are presented in part VI of the report (on pp. 26-27).