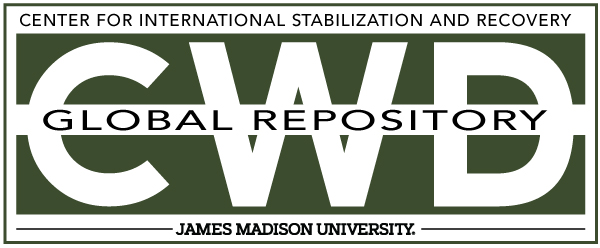 Creative Commons License

This work is licensed under a Creative Commons Attribution-Noncommercial-No Derivative Works 4.0 License.
Keywords
ERW Clearance, MDD, Mine Detection Dog, GICHD, Ian McLean, Rebecca Sargisson, Ian Mansfield, Dogs, Landmines
Abstract
The overall aim of the study was to explore the effects of environmental variables on mine detection by dogs. Operational mine detection dogs were used to search for mines in a test mine field, near Kabul, Afghanistan. The key variable used in the analysis was whether a mine was found or missed by the dog. Measured during the study were: o Weather patterns through the year of the study. Weather variables (temperature, wind, humidity) at the time the dog crossed the mine. Dog behaviour. Vegetation over the mine. A soil sample was taken from over the mine and from a sample of false indication sites in each box. Analysis for explosive chemicals was by two labs using gas chromatography.