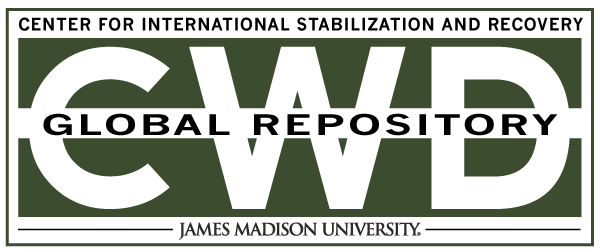 The Global Conventional Weapons Destruction Repository was established by The Center for International Stabilization and Recovery at James Madison University in 2018 to serve as the central information archives for the global humanitarian mine action (HMA) and conventional weapons destruction (CWD) communities. We welcome submissions from all individuals and organizations who have research, studies or documentation related to the policy, implementation, or monitoring of CWD and HMA activities.
Submit your materials to the repository here.
View Archives By Category:
Submissions from 2019
Accidents and Field Medical Provision, Andy Smith
A Guide to Developing National Standards for Ammunition Management, and
Ammunition Stockpile Management: A Global Challenge Requiring Global Responses, Nora Allgaier and Samuel Paunila
Booby-traps and Anti-handling Devices: Common Tactics, Michael Cardash
Collaborative Demining Training in Cambodia, Jorge Rivero and Tom Gersbeck
Contamination in Eastern Ukraine: Observations by OSCE, Edward Crowther
Critical Path Guide to the International Ammunition Technical Guidelines, and
DDASaccident819, Humanitarian Demining Accident and Incident Database
DDASaccident820, Humanitarian Demining Accident and Incident Database
DDASaccident821, Humanitarian Demining Accident and Incident Database
Drones in the Desert: Augmenting HMA and Socio-Economic Activities in Chad, John Fardoulis, Xavier Depreytere, Emmanuel Sauvage, and Pierre Gallien
From the Director, Ken Rutherford Dr.
Global Mapping and Analysis of Anti-Vehicle Mine Incidents in 2018, and
IEDs and Urban Clearance Variables in Mosul: Defining Complex Environments, Mark Wilkinson Ph.D.
IED Threat Consistency and Predictability in Fallujah: A 'Simple' Model for Clearance, Mark Wilkinson Ph.D.
Interviews With HMA Directors: Allan Vosburgh, Allan R. Vosburgh
Interviews With HMA Directors: Ambassador Stefano Toscano, Ambassador Stefano Toscano
Interviews With HMA Directors: Arianna Calza Bini, Arianna Calza Bini
Interviews With HMA Directors: Dr. Jane Cocking, Dr. Jane Cocking
Interviews with HMA Directors: Major General J.M. Cowan, Major General J.M. Cowan
Iraq: A Photo Essay, Sean Sutton
ITF Enhancing Human Security in Serbia, Gregor Sancanin
Key Performance Indicators and HMA: Time to Standardize?, Roly Evans and David Hewitson
Long-Term Risk Management Tools and Protocols for Residual Explosive Ordnance Mitigation (Vietnam), and
Minefield Clearance and Casualties - Holland 1945 - Military Operations Research Unit Report No.7, Roly Evans
Mineland, The Endless War: A Photo Essay, Rocco Rorandelli
More Bang for Their Buck: Enhancing the Sustainability of Surplus Ammunition Destruction Programs, Joe Farha, Matthias Krotz, and Einas Osman Abdalla Mohammed
National Capacities and Residual Contamination (Croatia), and
Practical Notes on the Application of Thermite Systems in Mine Action, Robert Syfret and Chris Cooper
The Challenge of Managing Mine Action in Jordan, HRH Prince Mired R.Z. Al-Hussein
The Challenges of Humanitarian Mine Clearance in Ukraine, Toby Robinson and Rosanna O'Keeffe
The Impact of Landmines and Explosive Remnants of War on Food Security: The Lebanese Case, Henrique Garbino
The Journal of Conventional Weapons Destruction, CISR JOURNAL
The Journal of Conventional Weapons Destruction Issue 23.2, CISR JMU
The Journal of Conventional Weapons Destruction Issue 23.2, CISR JOURNAL
To Walk the Earth in Safety 2019, PM WRA
Ukraine's Newly Adopted Mine Action Law: What Does This Mean for HMA Programs?, Henrique Garbino
United Nations (UN) Mine Action Strategy 2019-2023
Utilizing the IATG in Conflict-Affected and Low-Capacity Environments
Vietnam Ageing Study Management of Explosive Remnants of War (MORE)
Submissions from 2018
Advanced Geophysical Classification of WWII-era Unexploded Bombs Using Borehole Electromagnetics, Laurens Beran and Stephen Billings
Clearing Safe Spaces for Drought Affected Communities in Somaliland, Edward Lajoie and Megan Dwyer
DDASaccident813, Database of Demining Accidents
DDASaccident815, Humanitarian Demining Accident and Incident Database
DDASaccident816, Humanitarian Demining Accident and Incident Database
DDAS: "Accidents" or "Incidents", Humanitarian Demining Accident and Incident Database
DDAS: Crunching Data from the Database of Demining Accidents, Humanitarian Demining Accident and Incident Database
DDAS: Introduction, Humanitarian Demining Accident and Incident Database
DDAS: Investigating a Metal Detector Reading, Humanitarian Demining Accident and Incident Database
DDAS: Manual Demining Handtool Design Criteria, Humanitarian Demining Accident and Incident Database
DDAS: Metal Detector Search, Humanitarian Demining Accident and Incident Database
DDAS: Metal Detector Set-up, Humanitarian Demining Accident and Incident Database
DDAS or RAPID?, Humanitarian Demining Accident and Incident Database
DDAS: Suggested Training Uses, Humanitarian Demining Accident and Incident Database
DDAS Suggested Training Uses: Deminer Training, Humanitarian Demining Accident and Incident Database
DDAS Suggested Training Uses: Management Training, Humanitarian Demining Accident and Incident Database
DDAS Suggested Training Uses: Paramedic Training, Humanitarian Demining Accident and Incident Database
DDAS Suggested Training Uses: Supervisor/Field Management Training, Humanitarian Demining Accident and Incident Database
DDAS: The Database of Demining Accidents - a Driving Force in HMA, Humanitarian Demining Accident and Incident Database
DDAS: Using the Database of Demining Accidents, Humanitarian Demining Accident and Incident Database
Demining the Tajik-Uzbek Border: What Have We Learned from the Tajik Experience?, Henrique Garbino and Erkin Huseinov
Determining the Value of UAVs in Iraq, Brad Alford, Edward Curran, and Shawn Cole
Drones and "Butterflies": A Low-Cost UAV System for Rapid Detection and Identification of Unconventional Minefields, Timothy deSmet, Alex Nikulin, William Frazer, Jasper Baur, Jacob Abramowitz, Daniel Finan, Sean Denara, Nicholas Aglietti, and Gabriel Campos
Drones Supporting Mine Clearance in Northern Sri Lanka, Oliver Gerard-Pearse
Endnotes, CISR JMU
Endnotes Issue 22.3, CISR JOURNAL
Enhancing Humanitarian Mine Action in Angola with High-Resolution UAS IM, Inna Cruz, Luan Jaupi, Shadrack Kassanga Njamba Sequesseque, and Olivier Cottray
Gender Mainstreaming in Mine Action | Powerful linkages for progress across the SDGs, , Laura Biscaglia, Vanessa Gomes Sampaio, Ursign Hoffman, and Marion Provencher Langlois
Geneva International Centre for Humanitarian Demining | Twenty Years of Supporting Mine Action
Global Mapping and Analysis of Anti-Vehicle Mine Incidents in 2017, and
How Iraq Is Changing What We Do: Measuring Clearance in Urban Environments, Pehr Lodhammar
Implementation of the Convention on the Prohibition of the Use, Stockpiling, Production and Transfer of Anti-Personnel Mines and on Their Destruction : revised
Increasing Efforts in SSMA: What Does it Take?, Ursign Hofmann, Samuel Paunila, and Katherine Prizeman
Issue 22.3 Message from the Director, Kenneth Rutherford
Landmine Free 2025: A Shared Responsibility, Camille Wallen and Chris Loughran
Lessons from the Past: The Rapid Clearance of Denmark's Minefields in 1945, Roly Evans
Life-Cycle Management of Ammunition: Safety, Security, and Sustainability, Jovana Carapic, Eric J. Deschambault, Paul Holtom, and Benjamin King
Management of Residual Explosive Remnants of War in Cambodia Report, Geneva International Center for Humanitarian Demining
Mave magazine, Lauren Adams
Minefield Sketch Maps in Humanitarian Mine Action, Jesse Hamlin and Luan Jaupi
Mitigating Adverse Environmental Impacts in Mine Action, Martin Jebens and Gianluca Maspoli
Opportunities for Regional Training and Information Exchange Reap Benefits for Central Asia, Paige Ober, Nazira Shozodaeva, Tahmina Akhmedova, and Suzanne Fiederlein
PPE Development and Needs in HMA, Andy Smith
Sepon Supports UXO Clearance in Laos, Saman Aneka and Micheal Valent
Shattered Lives and Bodies: Recovery of Survivors of Improvised Explosive Devices and Explosive Remnants of War in Northeast Syria, Médecins Sans Frontières
The Added Value of Integrating UAVS Into the HMA Toolkit, Shathel Fahs and Greg Crowther
The Discoverability of Award-Winning Undergraduate Research in History: Implications for Academic Libraries, Jody C. Fagan and Malia Willey
The Effects of ERW Contamination in Sri Lanka, Jennifer Dathan
The Hybrid Thermal Lance: A Promising New Technique for the Destruction of Landmines and UXO by Deflagration, Donald Pratt and Nick Torbet
The Journal of Conventional Weapons Destruction Issue 22.1, CISR JMU
The Journal of Conventional Weapons Destruction Issue 22.2, CISR JMU
The Journal of Conventional Weapons Destruction Issue 22.3, CISR JOURNAL
The State of Play in Safe and Secure Management of Ammunition
To Walk the Earth in Safety 2018, PM WRA
Undergraduate research journals and career readiness, Alexandra Hoen
United Nations Improvised Explosive Device Disposal Standards